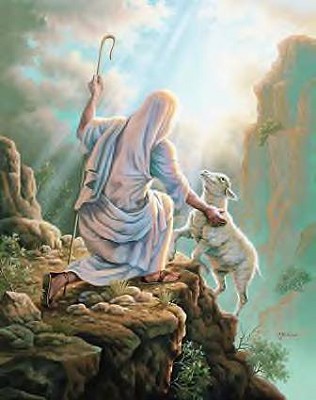 SOME BIBLICAL THOUGHTS ON THE ASSURANCE OF SALVATION
Spiritual assurance – the knowledge that we have been forgiven of our sins, that we are saved by the blood of Christ, and that we possess a future home in heaven – is one of the richest doctrines of the Bible. It refers to the possibility of our possessing a full confidence and conviction that the penalty of our sins has been fully paid by the death of Christ on the cross, and that heaven has been fully secured as our eternal home through Christ*s death and resurrection.
Assurance means that the Christian not only possesses salvation, but that he also knows what he possesses – he is completely confident of his salvation.
The Bible is filled with the promise of salvation in response to faith in Christ.
In John 10:10, Jesus said: I am the gate; whoever enters through me will be saved. He will come in and go out, and find pasture.
Acts 2:21 promises: Everyone who calls on the name of the Lord will be saved.
Romans 10:9 says that: lf you confess with your mouth, "Jesus is Lord, "and believe in your heart that God raised him from the dead, you will be saved. (In other words, the condition for salvation is simply believing in what Jesus has done to save you, and in accepting His death on the cross for yourself as payment for your sins.)
Romans 10:13 says: Everyone who calls on the name of the Lord will be saved.
Finally, 1 John 5:12 states: He who has the Son has life; he who does not have the Son of God does not have life.
That*s the bottom line of our assurance: If we have accepted Jesus and His death on the cross for our sins as full payment for our sin, we have Jesus; therefore, we are forgiven, we are saved, we possess the gift of eternal life, and heaven will be our home. If we have not accepted Jesus Christ, then none of these things are true.
The basis of assurance is never our own experience – and especially not our feelings – which can be troubled by fear, doubt, and uncertainty. Our assurance is founded on the Word of God alone, and the Holy Spirit testifies to our spirit that the Word of God is true and reliable.
When we stand on the Word of God by faith in what Jesus has done, then the Bible assures us that our forgiveness and salvation are guaranteed. Confidence in the truthfulness of God*s Word gives us a freedom to live the Christian life without the fears, doubts and uncertainties that Satan would otherwise use to trouble us and keep us from enjoying spiritual victory.
For instance, in John 10:26-30, Jesus said: Mv sheep listen to my voice; 1 know them, and they follow me. I give them eternal life. and they shall never perish.- no one can snatch them out of my hand My Father, who has given them to me, is greater than all- no one can snatch them out of my Father*s hand. I and the Father are one.
In Romans 8:35. Paul asks: Who shall separate us from the love of Christ? Shall trouble or hardship, or persecution or famine or nakedness or danger or sword?
Then, in Romans 8:37-39 he answers his own questions: No, in all these things we are more than conquerors through him who loved us. For I am convinced that neither death nor life, neither angels nor demons, neither the present nor the future, nor any powers, neither height nor depth, nor anything else in all creation, will be able to separate us from the love of God that is in Christ Jesus our Lord
1 John 4:17-18 declares: In this way, love is made complete among us so that we will have confidence on the day of judgement because in this world we are like him. There is no fear in love. But perfect love drives out fear, because fear has to do with punishment. The one who fears is not made perfect in love.
Satan would try to convince us that we have to go on "earning" our salvation. It*s a lie! We can*t earn it in the first place — that*s why Jesus had to die for us! And we can*t earn it after the fact because everything that needs to be done to save us has already been done. Our confidence of forgiveness is not based on anything that we have done; it is based entirely on what Jesus has done.
Titus 3:5-7 says: He saved us, not because of righteousness that we had done but because of his mercy. He saved us through the washing of rebirth and renewal by the Holy Spirit, whom he poured out on us generously through Jesus Christ our Savior, so that, having been justified by his grace, we might become heirs having the hope of eternal life.
What that verse is saying is that we didn't do anything to save ourselves, and we never will do anything to save ourselves: Jesus has already done it all!
When we accepted Jesus as our Savior we became saved – our sins were forgiven (they were removed from us and will never be brought up again by God), we were given the Holy Spirit to live within us, and we were given the deed to a home in heaven. We have been justified – it*s in the past tense – and nothing is going to change that so long as we walk with Jesus. (Because we*re justified, God looks at us 'just as if we*d never sinned.") Therefore, we are His heirs, and all that He possesses also belongs to us – including a home in heaven.
Satan would do his best to make us worry about our salvation; to doubt whether we*re good enough to be saved; to put questions in our mind about whether we*re truly forgiven. We have to remember that Satan is a liar and the Father of lies.
Hebrews 10:21-23 says: Since we have a great priest over the house of God (that*s Jesus), let us draw near to God with a sincere heart in full assurance of faith having our hearts sprinkled to cleanse us from a guilty conscience and having our bodies washed with pure water. Let us hold unswervingly to the hope we profess for he who promised is faithful. In other words, we should have no doubts!
That verse is telling us that since Jesus has finished the work of salvation on the cross, we can come to God with absolute confidence. And we can trust God to complete the work that Jesus began by bringing us safely home to heaven. All we have to do is keep trusting Him!
A life of spiritual doubt and uncertainty contradicts the ideal of spiritual freedom in Christ. If we experience that kind of doubt, it is Satan*s doing and we need to take a stand on the Word of God and send the devil packing.
Colossians 2:9-10 tells us that: in Christ all the fullness of the Deity lives in bodily form, and you have been given fullness in Christ, who is the head over every power and authority. Trust in Jesus and in the Bible brings us a sense of security, freedom and the conviction of eternal life in Him.
In 2 Timothy 1:12, Paul states his own personal assurance: I know whom I have believed (that*s Jesus), and am convinced that he is able to 2uard what I have entrusted to him for that day. (What Paul had entrusted to Jesus was his life and his eternal destiny.)
Because you have believed in Jesus, and because you have entrusted your life to Him, you can be certain that He will take care of you until the day that He returns and takes you to live with Him forever. Your life and eternal destiny are in His hands, and He won*t drop you!
From now on, when Satan brings doubts to your mind, put your faith in the facts that are recorded in God*s Word. Learn to say: "God says it. I believe it. and that settles it!"